Interpeer Project merchandise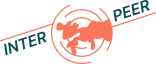 information-centric networking
stack that protects human rights by design.
In the words of one Tor developer: "you want to make us obsolete!"
This breaks down into a growing number of component projects, that you can help with – join the discussion list to reach out! Or if you prefer to donate, every cent will go 100% to our mission.
Of course, by far the most stylish way to donate is to grab some of the swag right here in this shop!
Since 2023, there has been a close collaboration between the Interpeer Project and FreeWear.org, that donate a portion of the sales of Interpeer materials in this website. We also participate in Interpeer Project events.
More information: https://interpeer.io/
Interpeer Project stuff available right now: