About FreeWear.org
FreeWear.org is an online FOSS merchandising store and a print shop. We offer T-shirts, polo shirts, sweatshirts, mugs, etc. of a high print quality. For every sold item, we donate a part to the association or organization to which they belong.
FreeWear.org has been working since 2006 with various FOSS organizations, through its web store and also participating in events organized by these associations, printing and sending the commemorative T-shirts of the event and sending, and also FOSS goodies for its sale at these events.
Payment
All prices and donations includes VAT (21%). You have the following alternatives:
Credit card:

We provide you a link to pay with your credit card.

PayPal:

We provide you a link to pay with your PayPal account or credit card.

Bank deposit or transfer:

We provide you a bank account number to deposit the cost of the order . When we confirm the deposit or transfer, (which can take 2 working days), your order will be on the road..

Cash on delivery (Only in Spain and Portugal):

You pay your stuff when it's at the door of your home. You'll have to pay an additional amount to the delivery company (MRW).
Shipping
Shipping costs will be estimated when you checkout your order. Anyway, you can check shipping costs here.
Orders will be shipped on Tuesdays and Fridays.
UPS will make a first attempt at delivery to the specified address. If this is not possible (absence...), it will be deposited at a 'UPS Access Point', always near to the delivery address. More info.
Warning: If the order is to a country outside the European Union, is likely to have to pay customs. Browse through the customs laws of your country to make sure.
Returns
All products can be returned in a period of 7 days since the reception of the package.
In order to perform the return you'll have to send us an e-mail and explain the reason of the return, indicating the order number.
If the T-shirt size is not right, product is disappointing or you just don't like it, we'll refund your money. In order to do so, send us the product, you pay the shipping costs. If product is defective or doesn't correspond with the order, FreeWear will substitute the product without any cost on your side.
If there is a return by the transport services for 'non-collect' or incorrect address by the addressee, we'll return the amount of the returned merchandise, but not the shipping amount.
Corporate information

  According to the established in the Law 34/2002, in July 13th
  of Services of the Information Society and Electronic Commerce (LSSICE),
  we offer the general information data about this website:

  FreeWear.org, C.B. (Community of Goods)
  Spanish Fiscal Id: E27854462
  Intra-Community Operator Number (VAT ID): ES E27854462
    
  Registration Number: RGE781005552018
  From Date: 06/02/2018
  Epigraphs: 474 and 665.
  
  Address: Travesía do Monte, 18 - Beade-Saá. Postal Code: 36312. VIGO (Pontevedra, Galicia) - Spain
  e-mail: admin@freewear.org
  Phones: +34 986 420 794 (F) // +34 633 366 953 (M)

  Fiscal Info: Percentage of VAT currently applicable in Spain: 21%.

Techniques used
Textile screen printing
Textile screen printing is the best & oldest technique of textile printing and lets you print in any color garment. The resistance is excellent. It is a suitable technique for medium and large print runs, because it requires some pre-printing work that makes it expensive for very short runs. The price depends on the garment used, the number of colors to print and the number of garments.
Textile vinyl
The textile vinyl allows you to print a single garment of any material and color. It is very resistent following a few simple guidelines of washing (cold water, garment inside out, without bleach or abrasives).
Its limitations are the number of colors and that does not allow very small details. The design will be in vector format, in flat colors. If there is text, do not forget to convert it in tracings.
DTF printing
The DTF (Direct to Film) printing technique allows the printing of a single garment, or orders numerous of T-shirts, polos or sweatshirts, in any material (cotton, polyester) and color. It allows multicolored designs, and very small details. It's resistant following simple washing guidelines (cold water, garment inside out, and without bleach or abrasive products).
Textile sublimation
The sublimation textile allows to print a single garment and in full­color designs (photographic images, gradients...). The impression is indelible, his touch on the garment is inappreciable and is the most durable of all printing techniques.
Its limitations are to be printed in white or very light colored clothing (the inks foreshadow the color of the garment) and the garment must be polyester. Fortunately we have a polyester shirts that faithfully simulate the feel and appearance of a cotton shirt.
Rotulation vinyl
The rotulation vinyl has continuously improved, becoming an indispensable material for graphic arts, due to multiple application possibilities: resistant adhesives for interior (laptops, tablets...) or even exterior (vehicles), durable.
Ceramic sublimation
Sublimation is a convenient method of printing quality images on ceramic parts. The process involves using heat and pressure to vaporize and direct a solid dye onto a coated ceramic part. The polymer coating softens to receive the dye and display the colors.
Laminated printed vinyl stickers
Very long-lasting laminated printed stickers. Once printed the stickers, is applied another layer of protector vinyl, to make one tough sticker.
Embroidery
The embroidery is a technique consisting in the ornamentation of a flexible fabric surface by means of textile threads. The durability is perpetual.
So much OpenSource and stuff but neither your tees are free of charge nor I can see the source code!
Well, first, our T-shirts are "free as in speech but not as in beer", I mean, you can wear them forwards, backwards and sideways, and we'll not sue you for sharing them with your friends.
About source code, we tried to upload T-shirts but our FTP won't let us, so at least here you have some screenshots of a T-shirt compilation.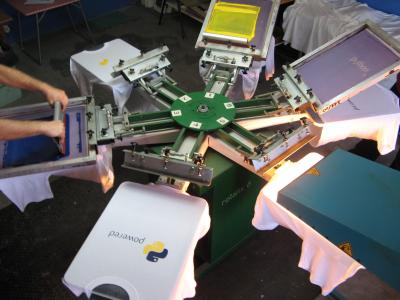 Our workers design and print the T-shirts, with all their love and dedication.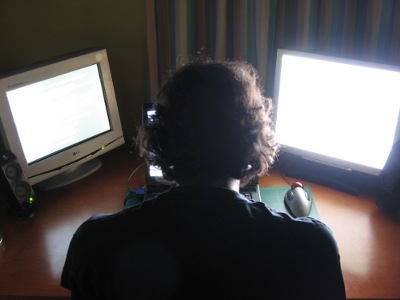 Our intern geek takes care of taming the needed technology to make the T-shirt get to you.
If you notice something fails, it's because it is not easy at all to concentrate with those curtains.