Welcome to FreeWear.org.
We donate to your favorite projects with every sale.
Contribute in style!
Which T-shirts would you rather buy?
Help us decide which will be our next T-shirt.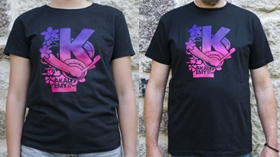 We sincerely appreciate the trust KDE has placed in us once again this year to print the Akademy 2020 t-shirts. Printing this individual t-shirts is an new experience, this year of so many 'new' experiences.