Payment
You have the following alternatives
PayPal:

We provide you a link to pay with your PayPal account or credit card.

Bank deposit or transfer:

We provide you a bank account number to deposit the cost of the order . When we confirm the deposit or transfer, (which can take 2 working days), your order will be on the road..

Cash on delivery:

You pay your stuff when it's at the door of your home. You'll have to pay an additional amount to the delivery company.
Shipping
Shipping costs will be estimated when you checkout your order. Anyway, you can check shipping costs here.
Orders will be shipped on Mondays and Thursdays.
Returns
All products can be returned in a period of 7 days since the reception of the package.
In order to perform the return you'll have to send us an e-mail and explain the reason of the return, indicatin the order number.
If T-shirt size is not right, product is dissappointing or you just don't like it, we refund your money. In order to do so, send us the product, you pay the shipping costs. If product is defective or doesn't correspond with the order, FreeWear will substitute the product without any cost on your side.
Privacy

  In performance of the Organic Law 15/1999, in November 13 of Protection
  of Personal Data (LOPD), Freewear, as responsible of the file announces
  the following considerations:
  The personal data we ask you for, will be incorporated to a file in order
  to enable us to offer our services.
  You are as well informed about the possibility of performing the right of
  access, correction, cancelation and oposition, of your personal data in
  the terms established by the current legislation, through the following
  email address.

  Likewise, according to the stablished in the Law Ley 34/2002, in July 13
  of Services of the Information Society and Electronic Commerce (LSSICE),
  we offer the general information data about this website:

  Julia Barros Barros
  NIF: 36082076K
  Census Insctiption No: 036250972536 5
  Date: 11/08/2005
  Epigraph: 471.1
  Address: C/ Travesía do Monte 18. 36312 Vigo (Pontevedra, Spain)
  Mail: x.barros.b@gmail.com
  Phone: +34 986 420 794, +34 633 366 953

Aren't your T-shirts too dull? All my StarWars tees have a lot of colours and shades...
We think different, and give preference to quality over amount of colours. Those princess Leia in bikini T-shirts are printed with a technique called transfer, which more or less is like putting your T-shirt inside a printer.
We use screen printing, a technique that limits us to 6 colours per T-shirt (besides the T-shirt base color), but in return print quality is better, and your T-shirts will survive washmachines, pets and some small tsunami. Furthermore, we individually iron each T-shirt after printing, so that the design finish is smooth, firm and able to stand more tempests.
And what the hell, good things in this life have less than 6 colours: black chocolate (#000), a terminal (#000 and #fff, or #000 and #0f0 if you are that kind of geek), ...
So much OpenSource and stuff but neither your tees are free of charge nor I can see the source code!
Well, first, our T-shirts are "free as in speech but not as in beer", I mean, you can wear them orwards, backwards and sideways, and we'll not sue you for sharing them with your friends.
About source code, we tried to upload T-shirts but FTP won't let us, so at least here you have some screenshots of a T-shirt compilation.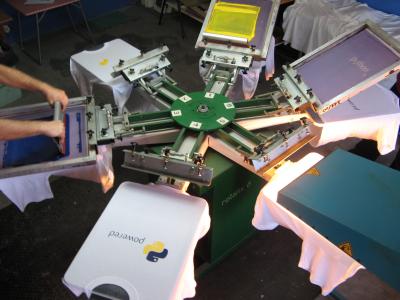 Our workers design, print and iron the T-shirts, with all their love and dedication.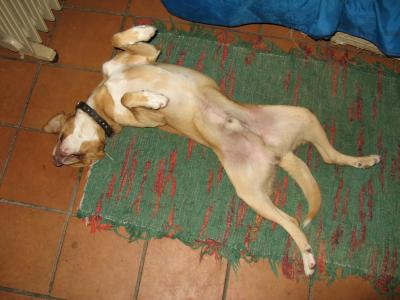 Mus rolls on the floor either clockwise or counterclockwise in order to express his conformity or disconformity about the quality of the product.
Our intern geek takes care of tamming the needed technology to make the T-shirt get to you.
If you notice something fails, it's because it is not easy at all to concentrate with those curtains.
Why does the English translation of this site stink so much?
Because in Spain we understand English in a lazy way. Please, drop us a line if you spot any translation error, or just something that happens not to make sense in English :)